Lately, I've been binging my way through TV series'. Empire ... The Mindy Project .. Keeping Up with the Kardashians ... (no shame). And all this screen time has just got me thinking about some of the book to screen adaptations I have my eye on for next year.
Allegiant by Veronica Roth
Synopsis:
The faction-based society that Tris Prior once believed in is shattered - fractured by violence and power struggles and scarred by loss and betrayal. So when offered a chance to explore the world past the limits she's known, Tris is ready. Perhaps beyond the fence, she and Tobias will find a simple new life together, free from complicated lies, tangled loyalties, and painful memories.
But Tris's new reality is even more alarming than the one she left behind. Old discoveries are quickly rendered meaningliess. Explosive new truths change the hearts of those she loves. And once again, Tris must battle to comprehend to complexities of human nature - and of herself - while facing impossible choices about courage, allegiance, sacrifice, and love.
I was going to call this post "10 Book to Screen Adaptations I'm Excited to See". But alas, I remembered Allegiant.
While it will be lovely to see Theo James and Miles Teller grace our screens once again, the past two films make me anxious for this one. I'll watch it anyway but I say read the book first, just in case.
A Series of Unfortunate Events by Lemony Snicket
Synopsis:
Dear Reader,
I'm sorry to say that the book you are holding in your hands is extremely unpleasant. It tells an unhappy tale about three very unlucky children. Even though they are charming and clever, the Baudelaire siblings lead lives filled with misery and woe. From the very first page of this book when the children are at the beach and receive terrible news, continuing on through the entire story, disaster lurks at their heels. One might say they are magnets for misfortune.
In this short book alone, the three youngsters encounter a greedy and repulsive villain, itchy clothing, a disastrous fire, a plot to steal their fortune, and cold porridge for breakfast.
It is my sad duty to write down these unpleasant tales, but there is nothing stopping you from putting this book down at once and reading something happy, if you prefer that sort of thing.
With all due respect,
Lemony Snicket
THE

HYPE IS REAL. The fact that this is also going to be a Netflix series, which means I can just binge my way through it ... is fantastic. And I'm really curious as to how they're going to do it. Will it be a book per episode or will we have multiple seasons?
The thing is, I haven't seen anything online about an official start date .. or a cast - nothing but the fans speculating. So if someone could just put my mind at ease and reassure me that this is actually happening?!
How to be Single by Liz Tuccillo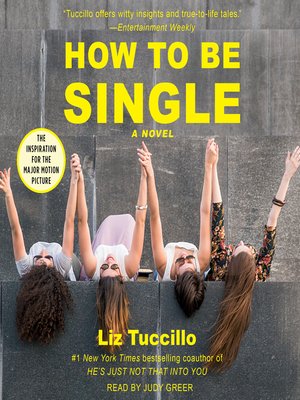 Synopsis:
It's the most annoying question and they just can't help asking you:
On a brisk October morning in New York, Julie Jenson, a single thirty-eight-year-old book publicist, gets a hysterical phone call from her friend Georgia. Reeling from her husband's announcement that he is leaving her for a samba teacher, Georgia convinces a reluctant Julie to organize a fun girls' night out with all of their single friends to remind her why it is so much fun not to be tied down ...
Fed up being single in Manhattan, Julie sets off to find out how women around the world deal with this dreaded phenomenon. From Paris to Rio to Sydney, Bali, Beijing, Mumbai, and Reykjavik, Julie falls in love, gets her heart broken, sees the world, and learns more than she ever dreamed possible. Written in Liz Tuccillo's pitch-perfect, hilarious, and relatable voice,How to Be Single is the ultimate novel for the adventurer in us all.
I didn't even know this was a book! But the trailer for the movie is lols. There's a bit where Dakota Johnson's character goes up to a group of guys in a bar and says "Can I have two margaritas please". I genuinely catch myself thinking about that one line and it just makes me laugh so much.
When I read the blurb of the book, I didn't really get the vibe that it would be a funny so I'm intrigued.
Americanah by Chimamanda Ngozi Adichie
Synopsis:
As teenagers in a Lagos secondary school, Ifemelu and Obinze fall in love. Their Nigeria is under military dictatorship, and people are leaving the country if they can. Ifemelu—beautiful, self-assured—departs for America to study. She suffers defeats and triumphs, finds and loses relationships and friendships, all the while feeling the weight of something she never thought of back home: race. Obinze—the quiet, thoughtful son of a professor—had hoped to join her, but post-9/11 America will not let him in, and he plunges into a dangerous, undocumented life in London.
Years later, Obinze is a wealthy man in a newly democratic Nigeria, while Ifemelu has achieved success as a writer of an eye-opening blog about race in America. But when Ifemelu returns to Nigeria, and she and Obinze reignite their shared passion—for their homeland and for each other—they will face the toughest decisions of their lives.
Chimamanda Ngozi Adichie is an amazing authour and if you have not read any of her books, finish reading this and read Americanah. It's a really beautiful and compelling coming of age story - I get goosebumps thinking about it!
Lupita Nyong'o and Chiwetel Ejiofore are playing the leads. To be honest I can't actually visualise this yet as I thought the cast would be younger. But that's okay because these two are stellar choices.
The Choice by Nicholas Sparks
Synopsis:
Travis Parker has everything a man could want: a good job, loyal friends, even a waterfront home in small-town North Carolina. In full pursuit of the good life - boating, swimming , and regular barbecues with his good-natured buddies -- he holds the vague conviction that a serious relationship with a woman would only cramp his style. That is, until Gabby Holland moves in next door. Spanning the eventful years of young love, marriage and family, THE CHOICE ultimately confronts us with the most heartwrenching question of all: how far would you go to keep the hope of love alive?

Another book you should read before watching the film. And maybe don't watch the trailer either. Unless you want to know the entire plot and ending. SIGH.
Marvel's Deadpool
Synopsis:
The Merc with a Mouth is back, even deadlier and more deranged than before! The planet has been invaded by Skrulls, everything's gone topsy-turvy... but, in Deadpool's world, that just means it's Monday! Crazy times call for crazy men, but c'mon, this guy's insane! Like it or not, Deadpool may be the only person on the planet who can save us... but who's to say he wants to?
Deadpool breaks the fourth wall which makes him so much more sarcastic and just sassier than your average bad-ass superhero. Anddd, Ryan Reynolds is playing Deadpool.
If you've seen The Green Lantern, perhaps this doesn't fill you with confidence. But I've now seen the Deadpool trailer about 50 times watched the trailer and honestly Ryan, all is forgiven.
The Girl on the Train by Paula Hawkins
Synopsis:
R

achel takes the same commuter train every morning. Every day she rattles down the track, flashes past a stretch of cozy suburban homes, and stops at the signal that allows her to daily watch the same couple breakfasting on their deck. She's even started to feel like she knows them. "Jess and Jason," she calls them. Their life—as she sees it—is perfect. Not unlike the life she recently lost.
And then she sees something shocking. It's only a minute until the train moves on, but it's enough. Now everything's changed. Unable to keep it to herself, Rachel offers what she knows to the police, and becomes inextricably entwined in what happens next, as well as in the lives of everyone involved. Has she done more harm than good?
I'm late to the bandwagon but this book got a lot of love earlier this year and, who doesn't love a psychological thriller.
Looking for Alaska by John Green
Synopsis:
Before.
Miles "Pudge" Halter's whole existence has been one big nonevent, and his obsession with famous last words has only made him crave the "Great Perhaps" (François Rabelais, poet) even more. He heads off to the sometimes crazy, possibly unstable, and anything-but-boring world of Culver Creek Boarding School, and his life becomes the opposite of safe. Because down the hall is Alaska Young. The gorgeous, clever, funny, sexy, self-destructive, screwed-up, and utterly fascinating Alaska Young, who is an event unto herself. She pulls Pudge into her world, launches him into the Great Perhaps, and steals his heart.
After.
Nothing is ever the same.
You know when you buy books .. and then they are on your shelf ... and you forget about them ... and you buy more books because you think you don't you have any to read ... my copy of Looking for Alaska falls under this category. But from what I've been reading online, not everyone is happy about this book being adapted.
Interestingly, I didn't think the characters or themes of TFIOS or Paper Towns would translate well on screen but somehow they made it work. I'm hoping that this is the case here.
The November Criminals by Sam Munson
Synopsis:
For a high school senior, Addison Schacht has a lot of preoccupations. Like getting into college. Selling drugs to his classmates. His complicated relationship with his best friend (NOT his girlfriend) Digger. And he's just added another to the list: the murder of his classmate Kevin Broadus, and his own absurd, obsessive plan to investigate the death. When presented with an essay question on his application to the University of Chicago—
What are your best and worst qualities?
—Addison finds himself provoked into giving his final, unapologetic say about all of the above and more.
Addison Schacht finds good company among American literature's cadre of unsettled, restless youth, from Huck Finn to Holden Caulfield.
The November Criminals
takes on the terrain of the classic adolescent truth-telling novel and—with nerve and erudition—carves out its own unique territory.
This book is ALSO on my TBR for next year. The protagonist, Addison, reminded me of Holden from Catcher in the Rye.
The Circle by Dave Eggers
Synopsis:
When Mae Holland is hired to work for the Circle, the world's most powerful internet company, she feels she's been given the opportunity of a lifetime. The Circle, run out of a sprawling California campus, links users' personal emails, social media, banking, and purchasing with their universal operating system, resulting in one online identity and a new age of civility and transparency. As Mae tours the open-plan office spaces, the towering glass dining facilities, the cozy dorms for those who spend nights at work, she is thrilled with the company's modernity and activity. There are parties that last through the night, there are famous musicians playing on the lawn, there are athletic activities and clubs and brunches, and even an aquarium of rare fish retrieved from the Marianas Trench by the CEO. Mae can't believe her luck, her great fortune to work for the most influential company in America--even as life beyond the campus grows distant, even as a strange encounter with a colleague leaves her shaken, even as her role at the Circle becomes increasingly public. What begins as the captivating story of one woman's ambition and idealism soon becomes a heart-racing novel of suspense, raising questions about memory, history, privacy, democracy, and the limits of human knowledge.
I studied a science-fiction module in French this semester and I've really enjoyed it. It's made me want to venture into science fiction and this book seemed really intriguing.